We Own the Night
Theatrical Release:
October 12, 2007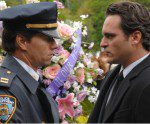 Synopsis
Bobby Green (Joaquin Phoenix) has turned his back on the family business. The popular manager of El Caribe, the legendary Russian-owned nightclub in Brooklyn's Brighton Beach, he has changed his last name and concealed his connection to a long line of distinguished New York cops. For Bobby, every night is a party, as he greets friends and customers or dances with his beautiful Puerto Rican girlfriend, Amada (Eva Mendes), in a haze of cigarette smoke and disco music.
But it's 1988, and New York City's drug trade is escalating. Bobby tries to keep a friendly distance from the Russian gangster who is operating out of the nightclub – a gangster who is being targeted by his brother, Joseph (Mark Wahlberg), an up-and-coming NYPD officer, and his father, Burt (Robert Duvall), the legendary deputy chief of police.
Dove Review
This story of bad guy turned good lacked any type of story arc. If the film had ended fifteen minutes in, it would have been no less of a surprise as when the film ended two hours later. The performances given by the usually stellar actors Joaquin Phoenix, Mark Wahlberg, and Robert Duvall, were incredibly dull and flat. Most of the moments that caused the audience to gasp were due to their sheer brutality and graphic nature. I'm not sure what type of audience the filmmakers were going for because this film did not have enough to hold the interest of any audience-goer in my opinion.
This film was not awarded our Dove Family-Approved Seal. There was a scene where an unmarried couple have sex, two topless women are seen, as well as revealing clothing throughout the movie. The F word was spoken so frequently that it was difficult to keep track of the exact number. The violence in the film was both gory and graphic. There was frequent smoking, drinking, and drug use throughout the movie.
Info
Company:
Columbia Tri-Star Pictures