Unstable Fables: 3 Pigs and a Baby
DVD Release:
February 1, 2008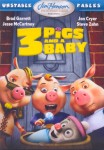 Synopsis
The well known tale of THE THREE LITTLE PIGS takes a new twist as a cunning team of special wolves hatch a plan to infiltrate the intrepid pigs' impenetrable house of bricks. When the unassuming pigs find a tiny wolf cub on their door step, they do what any responsible pig would do-raise him as their own. It's one big happy family as Lucky enters his teens not knowing his history or his role as a sleeper cell in the wolves' devious plan. But when Lucky meets and bonds with the wolf gang, he's faced with a huge decision-choose between the madcap lives of his new wolf friends or the loving pig family that raised him.
Dove Review
When I was a young child, I loved to tell the tale of the three little pigs. The tale is there with just a little twist that everyone will enjoy and a few lessons might even come to the viewer's attention. With celebrities' voices that are highly recognized, it adds fantastic personality to each character to make them enjoyable.
Not only is this the basic story of the Three Little Pigs and the Wolf, but new plots are added about adoption, being different, caring and the importance of family. It gives this movie some lessons for life. Everyone who watches this new spin on an old fable will enjoy this DVD. We award our Dove "Family-Approved" Seal to this DVD.
Info
Company:
Genius Products, Inc