Egghead Learning Systems: As I Grow – 6 DVD series
DVD Release:
February 1, 2008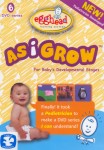 Synopsis
A DVD series designed to help families make the most of the period in life – birth to 18 months- when children have the greatest potential for learning. Egghead Learning Systems is designed by a pediatrician along with a team of experts in early childhood education, child speech development, child psychology and music theory.
Egghead Learning Systems is based on the latest research in the fields of learning and child brain development.
Egghead Learning Systems is tailored to the age and development of young children during their first 18 months.
Parents and caregivers will feel better knowing Egghead Learning Systems reinforces what their children are learning every day as they play and interact with the world around them, in an upbeat, fun-to-watch format.
Dove Review
"As I Grow" is a wonderful set of six DVDs that are sure to capture and keep the attention of your new little one. As the DVDs program progress in age, more and more detail is added to each section (the same sections are repeated in each DVD), therefore becoming more and more age appropriate. A wonderfully expressive flute is a common thread throughout all six DVDs as well as calming underwater footage of beautiful sea creatures. The DVDs would seem quite redundant if watched in one setting, but when used as teaching tools during the suggested ages, they are fantastic! 0-3 Months: The basic colors of red, black and white are used to capture tiny gazes, while simple shapes and single words are repeated. Basic body parts are introduced on real children who are sure to be attention grabbers. 3-6 Months: More colors are added to the palette as well as exclamatory words such as "Wow" and "Ah". New body parts are introduced along with simple sentences, and basic instructions are given as children play with a ball and blanket. 6-9 Months: Colors and shapes are now named and a few animals join the fun. The favorite infant game of "peek-a-boo" is played with your child and more detailed directions are given to the children playing with blocks. 9-12 Months: Colors and shapes are formed into a simple picture. Additional body parts are shown and fun baby games like clapping, blowing kisses and waving are played. Sorting is added to the play section as well as stacking and even more detailed directions. 12-15 Months: There is not as much added to this age range as in the previous sections (a few new body parts and some emotions), but great lessons about playing nicely with other children are displayed as kids interact and then clean up their toys. 15-18 Months: The colors and shapes section makes the biggest change in this age rage with numerous colors, more shapes and an even more detailed shape picture is created. Play comes in second with introductions to big and little, on and under, counting, clothing names and descriptive words like 'great' and 'cool'. Overall, "As I Grow" is a wonderful tool for new parents as they help their infants develop. Dove happily awards this set the Dove "Family-Approved" Seal".
Info
Company:
Egghead Learning Systems
Industry Rating:
Not Rated
Starring:
Gabrielle and Sinobia Alden,
Pipper Bailey
,
Glory
,
Major
,
Piper
,
Riley
, and Saylor Curda, Charlie and Sam Felix,
Victoria French
, Adeline and Sophie Galich, Finn and Headyn Gerow, Lillian and Sam Gragert,
Douglas Harms
,
Terena M. Joyce
, Peter and W. Davis Kurschner, Sophie and Eli Vidis Newman,
Mele Snyder