Get Smart
Theatrical Release:
June 20, 2008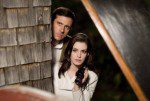 Synopsis
Maxwell Smart (Steve Carell) is on a mission to thwart the latest plot for world domination by the evil crime syndicate known as KAOS. When the headquarters of U.S. spy agency Control is attacked and the identities of its agents compromised, the Chief (Alan Arkin) has no choice but to promote his ever-eager analyst Maxwell Smart, who has always dreamt of working in the field alongside stalwart superstar Agent 23 (Dwayne Johnson). Smart is partnered instead with the lovely-but-lethal veteran Agent 99 (Anne Hathaway). Given little field experience and even less time, Smart–armed with nothing but a few spy-tech gadgets and his unbridled enthusiasm–must thwart the doomsday plans of KAOS head Siegfried (Terence Stamp).
Dove Review
"Get Smart" has its moments. Steve Carrell is very good as Maxwell Smart, without impersonating Don Adams (except in a few "missed it by that much" scenes). In one scene he is telling an enemy that the place is surrounded by the good guys and when the bad guy doesn't believe it, he quips, "Would you believe Chuck Norris and a b b gun?"
Anne Hathaway as Agent 99 also turns in a strong performance and it's the two of them that make the sometimes inane plot work. There is a lot of fast-paced action, explosions, fights and one liners. However, as a film for the family, it falls short as there are a lot of sexual innuendos, several uses of strong language, and a brief scene of rear male nudity. This is not one for the kiddies, so get smart and take them to see something more family-friendly, like "Kung Fu Panda".
Info
Writer:
Tom J. Astle and Matt Ember
Reviewer:
Edwin L. Carpenter