Hermie and Friends: A Fruitcake Christmas
DVD Release:
September 6, 2005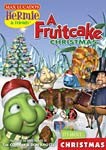 Synopsis
It's Christmastime in the garden and Hermie and his friends are hustling and bustling to prepare for the big day. But more than anything they all eagerly anticipate the crowning moment of the holiday season; the arrival of Grannypillar's scrumptious fruitcake. Suddenly, Christmas is hijacked when Iggy and Ziggy Cockroach–the greediest bugs in the garden–steal Grannypillar's fruitcake. How will Christmas survive? But deep in the hearts of the youngest of hearts, the true meaning of Christmas shines through. Hailey and Bailey, through an act of unheard of generosity, together remind the garden that the celebration of Christmas is nothing about fruitcake, but about God's gift to us.
Dove Review
Hermie and Max talk about how Christmas is God's gift to us. Then Hermie and Wormie go to Hermie's relatives to get a gift. They bring it back to town and put it in the town square. It is a gift for the whole town. Iggy and Ziggy are the Scrooges in this movie. They are mean to the town's people. They have been stealing food and hording it. The entire town is starving. So they steal the present out of the town square. Then the garden friends try to figure out how to get it back. Hailey and Bailey go to Iggy and Ziggy's house and give them some cake. Iggy and Ziggy are so impressed they decide to be nice to the town. They all have a wonderful Christmas.
God talks to the town and lets them know Christmas is about the birth of Jesus Christ and it is God's gift to them. A point is made that gifts of monetary value really should have no great meaning to them. This helps to teach all ages the true meaning of Christmas. They sing songs in the DVD including "12 Bugs of Christmas" and "Christmas time is coming". This movie is awarded the Dove " Family-Approved" Seal.