The Sisterhood of the Traveling Pants 2
Theatrical Release:
August 6, 2008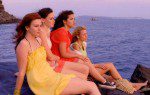 Synopsis
Based on Ann Brashares' best-selling series of novels, "The Sisterhood of the Traveling Pants 2" catches up with four lifelong friends whose story began with "The Sisterhood of the Traveling Pants." Now in college and embarking on separate paths for the first time, each will feel the freedom, separation, love, and challenging life lessons that mark their individual journeys toward adulthood. Though miles and worlds apart, they strive to stay in touch and share their new experiences and triumphs with heart and humor and, now more than ever, come to value the immeasurable power of their friendship.
Dove Review
Unlike the first film in this series, this one takes a departure from the relatively clean language. There are a few utterances of strong language and a sexual encounter between an unmarried couple. The story takes the girls from the first film and shows the viewer where they are at now. Some important topics are dealt with including death and grief and taking chances in life. As one character deals with grief she is told by a wise middle-aged woman, "People have a power over us, even when they're gone." She also advises that it is important to find what remains in life when something is lost. The girls have their moments of quarreling but they remain friends and are there to support one another in various ways, including when it comes to romantic issues. It is unfortunate we are unable to award our Dove "Family-Approved" Seal this time around as we did with the first film.
Content Description
Sex:
Kissing; an unmarried couple sleep together and they worry about the girl becoming pregnant; the camera focuses on a girl's rear as she dances.
Nudity:
A nude male model but nothing graphic is seen--he is shirtless and some of his leg and thigh is seen; shirtless men; cleavage.
Info
Writer:
Elizabeth Chandler and Ann Brashares
Reviewer:
Edwin L. Carpenter