Transporter 3
Theatrical Release:
November 26, 2008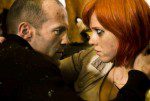 Synopsis
Frank Martin has been pressured into transporting Valentina, the kidnapped daughter of Leonid Vasilev, the head of the Environmental Protection Agency for the Ukraine, from Marseilles through Stuttgart and Budapest until he ends up in Odessa on the Black Sea. Along the way, with the help of Inspector Tarconi, Frank has to contend with the people who strong armed him to take the job, agents sent by Vasilev to intercept him, and the general non-cooperation of his passenger. Despite Valentina's cynical disposition and his resistance to get involved, Frank and Valentina fall for each other, while escaping from one life-threatening situation after another.
Dove Review
As with the other films in this series, the viewer is subjected to non-stop action, gunfights and peril. Fast cars and faster women seem to be the norm for action films today and this is no different. Quick cutaway scenes are also very overdone in this film.
As with its two predecessors, Dove cannot award our Seal to this film.
Info
Writer:
Luc Besson and Robert Mark Kamen