Taken
Theatrical Release:
January 30, 2009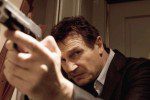 Synopsis
"I don't know you who you are. I don't know what you want. If you're looking for a ransom, I can tell you, I don't have money. But what I do have are a very particular set of skills acquired over a very long career in the shadows, skills that make me a nightmare for people like you. If you let my daughter go now, that will be the end of it. I will not look for you, I will not pursue you. But if you don't, I will look for you, I will find you. And I will kill you."
With these chilling words to a member of a band of kidnappers, former government operative Bryan Mills begins the longest 96-hours of his life – and the hunt for the fearsome organization that has taken his daughter Kim.
Dove Review
A dad who has been on the go most of his daughter's life decides to retire from his job to spend time with her but she wants to travel to Paris. He is skeptical but he lets his daughter, named Kim, go. He is right in that it was a wrong decision. She is not there for even a day when she and her friend are kidnapped and Kim's father only has 96 hours to find her or it will be too late.
This movie is definitely filled with action and adventure. It has all the elements it needs: good and bad guys, old friends to help, car chases; and shoot 'em up action and fist fights. You can sum it up in three parts: the kidnapping, getting the bad guys, and the great rescue so they can go home. There are no great surprises. Due to the content listed below this movie cannot be awarded our Dove "Family-Approved" Seal.
Info
Company:
20th Century Fox
Writer:
Luc Besson and Robert Mark Kamen