Friday the 13th
Theatrical Release:
February 13, 2009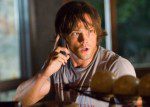 Synopsis
Searching for his missing sister, Clay heads up to the eerie woods of legendary Crystal Lake where he stumbles on the creaky remains of rotting old cabins that lie in wait behind moss-covered trees. And that's not the only thing hiding under the brush. Against the advice of police and cautions from the locals, Clay pursues what few leads he has with the help of a young woman he meets among a group of college kids up for an all-thrills weekend. But they are about to find much more than they bargained for. Little do they know, they've entered the domain of one of the most terrifying specters in American film history – the infamous killer who haunts Crystal Lake armed with a razor-sharp machete…Jason Voorhees.
Dove Review
Effective January 1st, 2009, The Dove Foundation Review Team has ceased reviewing all NC-17 rated movies and certain extraordinarily explicit R-rated films. This decision was reached due to the fact that Dove reviewers are parents or grandparents with conservative values. As such, we feel that we can no longer expose these dedicated and caring people to movies that contain distasteful and appalling stories that are focused on graphic horror and violence, and/or gratuitous depictions of explicit sex and nudity.
"Friday the 13th" is considered to be such a film. Our report is therefore limited to the business information (title, rating, distributor, producer, director, actors, etc), synopsis, and the content chart.
Content Description
Please see our content chart above.
Info
Writer:
Damian Shannon and Mark Swift
Reviewer:
Edwin L. Carpenter