Watchmen
Theatrical Release:
March 6, 2009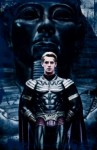 Synopsis
It all begins with the paranoid delusions of a half-insane hero called Rorschach. But is Rorschach really insane or has he in fact uncovered a plot to murder super-heroes and, even worse, millions of innocent civilians? On the run from the law, Rorschach reunites with his former teammates in a desperate attempt to save the world and their lives, but what they uncover will shock them to their very core and change the face of the planet! Following two generations of masked superheroes from the close of World War II to the icy shadow of the Cold War comes this groundbreaking comic story – the story of The Watchmen.
"Watchmen" is based on the 12-part DC Comics series written by Alan Moore and featuring art by Dave Gibbons.
Dove Review
This is far from being a family film. There is a scene not far into the story which I found to be in very poor taste. President Kennedy's assassination is re-created and though it is not a close-up there is a brief moment when you see the side of his head after the fatal gunshot which killed him. It is a very bloody scene which I don't believe needed to be in there. The point that he was gone could have been made without this bloody scene. The recreation was frighteningly realistic, including Jackie Kennedy in her pink outfit scaling the back of the car after the fatal blow to her husband.
Visually speaking the movie shines. The rest of it includes very strong content and crosses Dove's line of acceptability in five out of six categories. It is an extremely violent picture, with almost non-stop violence and some very bloody scenes. In one scene a woman is shot through the leg and you see the bullet rip through the skin with its resulting blood spurt. In another scene a man uses a meat cleaver to slash a man in the head and he does it several times and it is graphic, revolting, and bloody. I was very troubled to see a woman with two kids around six years old at this screening. They should not have been exposed to this violence. The movie is rated R for a very good reason. We are unable to award this film our Dove "Family-Approved" Seal.
Info
Writer:
David Hayter and Alex Tse
Reviewer:
Edwin L. Carpenter