Crank: High Voltage
Theatrical Release:
April 17, 2009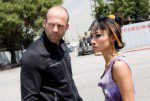 Synopsis
The indestructible hopped-up hitman Chev Chelios, played to the hilt once again by Jason Statham, returns in Crank 2: High Voltage, picking up where the first film left off — except this time, Chelios is chasing a Chinese gangster who hijacked his heart and substituted it with a mechanical one that needs to be jolted with an electric charge to stay pumping. The maverick directing/writing team of Mark Neveldine and Brian Taylor returns to inject more caffeinated craziness into Lionsgate's burgeoning action series, with Amy Smart and Dwight Yoakam set to reprise their roles from the original. Efren Ramirez, Bai Ling, Clifton Collins Jr., and Corey Haim round out the cast.
Dove Review
Effective January 1st, 2009, The Dove Foundation Review Team has ceased reviewing all NC-17 rated movies and certain extraordinarily explicit R-rated films. This decision was reached due to the fact that Dove reviewers are parents or grandparents with conservative values. As such, we feel that we can no longer expose these dedicated and caring people to movies that contain distasteful and appalling stories that are focused on graphic horror and violence, and/or gratuitous depictions of explicit sex and nudity.
"Crank: High Voltage" is considered to be such a film. Our report is therefore limited to the business information (title, rating, distributor, producer, director, actors, etc), synopsis, and the content chart.
Info
Writer:
Mark Neveldine and Brian Taylor
Director:
Mark Neveldine and Brian Taylor
Reviewer:
Edwin L. Carpenter