The Hangover
Theatrical Release:
June 5, 2009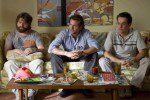 Synopsis
Two days before his wedding, Doug and his three friends drive to Las Vegas for a blow-out bachelor party they'll never forget. But, in fact, when the three groomsmen wake up the next morning, they can't remember a thing. For some reason, they find a tiger in the bathroom and a six-month-old baby in the closet of their suite at Caesars Palace. The one thing they can't find is Doug. With no clue as to what transpired and little time to spare, the trio must retrace their hazy steps and all their bad decisions in order to figure out where things went wrong and hopefully get Doug back to L.A. in time to walk down the aisle.
Dove Review
Effective January 1st, 2009, The Dove Foundation Review Team has ceased reviewing all NC-17 rated movies and certain extraordinarily explicit R-rated films. This decision was reached due to the fact that Dove reviewers are parents or grandparents with conservative values. As such, we feel that we can no longer expose these dedicated and caring people to movies that contain distasteful and appalling stories that are focused on graphic horror and violence, and/or gratuitous depictions of explicit sex and nudity.
"The Hangover" is considered to be such a film. Our report is therefore limited to the business information (title, rating, distributor, producer, director, actors, etc), synopsis, and the content chart.
Info
Writer:
Jon Lucas and Scott Moore
Reviewer:
Edwin L. Carpenter