The Ugly Truth
Theatrical Release:
July 24, 2009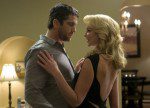 Synopsis
The battle of the sexes heats up in Columbia Pictures' comedy "The Ugly Truth". Abby Richter (Katherine Heigl) is a romantically challenged morning show producer whose search for Mr. Perfect has left her hopelessly single. She's in for a rude awakening when her bosses team her with Mike Chadway (Gerard Butler), a hardcore TV personality who promises to spill the ugly truth on what makes men and women tick.
Dove Review
The ugly truth about "The Ugly Truth" is that it is far from a family movie for Mom, Dad and the kids. It has a ton of sexual innuendos and frank sexual comments, in addition to strong language. At one point a main character, after listening to a lot of talk about sex along with some slang, says, "I feel dirty." Mike Chadway (Gerard Butler) is hired to speak frankly on television about men, women and sex, and there is friction between producer Abby Richter (Katherine Heigl) and himself. He gets her to agree to a dare that he can help her get a man she is interested in and, if he succeeds, she must cease being hostile toward him. But all doesn't go according to plan for just when Abby seems to have captured her man, she and Mike realize they have some of their own combustion going on.
We are unable to award our Dove "Family-Approved" Seal to this movie due to the sex, language, nudity and the "other" categories listed below.
Content Description
Sex:
Sex between an unmarried couple; tons of frank sexual talk including using a lot of sex slang for breasts, penis, vagina, rear, oral sex, a comment about lesbians, man slaps woman's rear; a woman winds up using a vibrator at a dinner party when a kid accidentally gets control of the remote for it and doesn't know what it is; etc.
Language:
GD-2; J-1; F-9; F'ing-1; Several slang comments on various parts of the body; B-3; Crap-4; S-11; H-12; H (as a location)-1; A-12; Moron-1; Whores-1; Oral sex comment-1; Several erection comments. Thank God-1
Nudity:
Rear male nudity as man's towel falls off accidentally; woman in panties seen; shirtless men; cleavage; short shorts on one girl; two women seen in bikinis.
Info
Company:
Columbia Tri-Star Pictures
Writer:
Nicole Eastman and Karen McCullah Lutz
Reviewer:
Edwin L. Carpenter