The Book of Eli
Theatrical Release:
January 15, 2010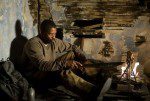 Synopsis
In a post-apocalyptic America where the once-picturesque countryside has become a desolate and violent wasteland, one man (Denzel Washington) fights to protect that sacred tome that could hold the key to the survival of the human race in this futuristic thriller from filmmaking duo Albert and Allen Hughes (From Hell and Dead Presidents). Gary Oldman, Mila Kunis, and Ray Stevenson co-star in the Warner Bros. production.
Dove Review
This film is a bit of an oxymoron. On the one hand, you have a character named Eli (Denzel Washington) who protects the Bible in an apocalyptic, post-war world. He quotes scripture and is divinely protected as he heads west because the voice of God told him to. Eventually he plans to deliver the word of God to a printer, as this would be the first printing press set up following a war which nearly destroyed the earth and everything on it. In fact, the way he delivers it is a bit of a surprise. On the other hand, there is biblical profanity in the film along with other strong language and so much bloody violence that the violence rating hits a level five in our content rating, the highest violence level we have!
If the violence and language had been toned down, this would be a film we could heartily recommend to families. Eli speaks of the Bible as "the one true book" and his sacred devotion to it is compelling. However, with a lot of bloodshed along the way, this is one journey we recommend our Dove families avoid.
Info
Director:
Albert Hughes and Allen Hughes
Reviewer:
Edwin L. Carpenter