From Paris with Love
Theatrical Release:
February 5, 2010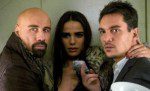 Synopsis
A personal aide to the U.S. Ambassador in France, James Reese (Jonathan Rhys Meyers) has an enviable life in Paris and a beautiful French girlfriend, but his real passion is his side job as a low-level operative for the CIA. All James wants is to become a bona fide agent and see some real action. So when he's offered his first senior-level assignment, he can't believe his good luck – until he meets his new partner, special agent Charlie Wax (John Travolta).
A trigger-happy, wisecracking, loose cannon who's been sent to Paris to stop a terrorist attack, Wax leads James on a white-knuckle shooting spree through the Parisian underworld that has James praying for his desk job. But when James discovers he's a target of the same crime ring they're trying to bust, he realizes there's no turning back…and that Wax himself might be his only hope for making it through the next forty-eight hours alive.
Starring John Travolta, Jonathan Rhys Meyers, Kasia Smutniak and Richard Durden, FROM PARIS WITH LOVE is directed by Pierre Morel (TAKEN) and produced by Virginie Besson-Silla.
Dove Review
Effective January 1st, 2009, The Dove Foundation Review Team has ceased reviewing all NC-17 rated movies and certain extraordinarily explicit R-rated films. This decision was reached due to the fact that Dove reviewers are parents or grandparents with conservative values. As such, we feel that we can no longer expose these dedicated and caring people to movies that contain distasteful and appalling stories that are focused on graphic horror and violence, and/or gratuitous depictions of explicit sex and nudity.
"From Paris with Love" is considered to be such a film. Our report is therefore limited to the business information (title, rating, distributor, producer, director, actors, etc), synopsis, and the content chart.
Info
Writer:
Adi Hasak & Luc Besson
Reviewer:
Edwin L. Carpenter