Believe In Me: Edited
DVD Release:
September 4, 2007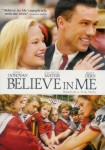 Synopsis
Coach Clay Driscoll is a small town basketball coach who seems to have everything going against him. A team he doesn't want. A town that doesn't support girl's sports and small town politics that threaten to undermine any chance of winning. But his pride and his "girls", the Lady Cyclones, refuse to let him quit.
This inspiring tale of perseverance, character and redemption pits Coach Driscoll against the school board President Ellis Brawley who has the school board and the town in his pocket. You'll cheer these strong-willed young women and their heard-headed coach as they fight for equality and a share of the dream, taking on the town prejudice and their own self-doubt in this heart-warming true story of a team, a town and a man who wouldn't give up.
Dove Review
Based on a true story about Coach Clay Driscoll and the Lady Cyclones and set in 1965, when girls playing any type of sport was not supported by many communities, this is a story of one man's coaching journey in the world of girl's basketball. Having moved to the small town of Middletown thinking he will be the boys basketball coach, Coach Clay is surprised by the the President of the Board, who thinks he can rule everything and everyone in town.
This is a movie about true patience, endurance and determination along with the change in prejudice and attitudes toward girls' sports. This is an intriguing story filled with action which will be enjoyed by girls and boys alike. We award this film the Dove "Family-Approved" Seal for 12 and older.