The Bounty Hunter
Theatrical Release:
March 19, 2010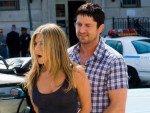 Synopsis
Milo Boyd (Gerard Butler), a down-on-his-luck bounty hunter, gets his dream job when he is assigned to track down his bail-jumping ex-wife, reporter Nicole Hurly (Jennifer Aniston). He thinks all that's ahead is an easy payday, but when Nicole gives him the slip so she can chase a lead on a murder cover-up, Milo realizes that nothing ever goes simply with him and Nicole. The exes continually one-up each other — until they find themselves on the run for their lives. They thought their promise to love, honor and obey was tough — staying alive is going to be a whole lot tougher. Andy Tennant ('Hitch,' 'Sweet Home Alabama') directs.
Dove Review
Jennifer Aniston and Gerard Butler seem to be enjoying themselves during this movie. I imagine the behind-the-scenes stories and practical jokes were lively to say the least. During the story they move back and forth between being angry with one another or enjoying each other's company, although most of the time neither one wants to admit it.
The premise is that Milo Boyd (Butler) is an ex-cop who is now a bounty hunter and when his ex-wife Nicole Hurly (Aniston) doesn't show up for a court case, the job of picking her up and bringing her in falls to Milo. It is an interesting twist for sure and some funny moments are the result. A few sparks fly too.
Unfortunately for our Dove viewers, the film is loaded with strong language as well as several innuendos and we regrettably cannot award the movie our Dove Seal as a family-friendly film.
Info
Company:
Columbia Tri-Star Pictures
Reviewer:
Edwin L. Carpenter