The Losers
Theatrical Release:
April 23, 2010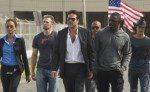 Synopsis
On a mission deep in the Bolivian jungle, a team of elite commandos (Jeffrey Dean Morgan, Chris Evans) find themselves on the receiving end of a lethal betrayal. Now presumed dead, the men join forces with a mysterious operative named Aisha (Zoe Saldana) to hunt down their enemy and even the score.
Dove Review
This movie features a lot of action, as well as violence. There is some blood but it is not as gratuitous as it could have been. Still, there is some to go along with the violent scenes, which turn out to be several. The content in this film includes some strong sexual comments and innuendos as well as strong language.
If "The Losers" were only judged by its cast then it would be a success. The acting is well done and believable. The story really amounts to an average action flick. Unfortunately, it is in the area of family-friendly that The Dove Foundation is interested in, and it doesn't come close to receiving our Seal in that arena. It's too bad. As betrayal is one of the themes, something most people have encountered at one time or another, some might relate to the different reactions which this causes. In this case, too often the reactions are the violent kind.
Info
Writer:
Peter Berg & James Vanderbilt
Reviewer:
Edwin L.Carpenter