The Gospel: A Narrative Journey
DVD Release:
September 1, 2010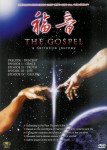 Synopsis
Mankind, bound by evil, ignorance and death, has longed for God's salvation to come. Two thousand years ago the Son of God, Jesus Christ, came to the world and became the Son of Man to die on the cross. He resurrected three days later, bringing God's grace, truth and salvation to all humanity. As a result, all who believe in Him shall be set free from the power of sin and death and become the children of God.
The Gospel includes a prelude and four episodes:
PRELUDE: DESCENT – An amazing universe and an amazing planet and people, and an amazing new born child.
EPISODE I: GRACE- War, terror, and deteriorating moral values. In pursuing goodness, mankind is caught in evil. Jesus came and lived a life with the grace that could only have come from God, shining his light on human darkness, forgiving men's sins and cleansing human iniquity.
EPISODE II: TRUTH – Science enlightens mankind that our universe had a mysterious beginning which transcended time and space. While seeking the truth, mankind finds themselves caught in despair. Jesus came and spoke truth that could only have come from God. Jesus' truth is about the universe, and about life and death.
EPISODE III: LIFE – Everyone is dying and shall eventually die. Even in pursuing life, mankind is constrained by death. Jesus came and did what only God could have done: healing incurable diseases, driving out demons, and raising the dead. Jesus Himself died but conquered death and rose again, revealing to the world the path to eternal life.
EPISODE IV: CALLING – Obsessed with a never-ending search, and yet unable to find the truth, mankind knows not what to search for. But the One all humanity is searching for has already come. The Word beckons humanity, and we need to receive Him according to His supernatural nature.
This is faith. For all who received Him, to those who believed in His name, He gave the right to become children of God.
Dove Review
This two disc documentary explores the history of the world and its origins, giving some examples of famous Philosophers and their theories, like Plato and Aristotle, and also scientific theories including the Big Bang theory. Ultimately, it focuses on Christ and the Bible and explains how the truth of the Bible explains man's origins as well as the earth's and ultimately man's fear of death, hope of life in God and Christ, and the call of God. The DVD includes a confession prayer, pointing the viewer toward Christ.
While this DVD is commendable for representing faith in the Bible and Christ, it does include graphic videos and photos of corpses from battles over the years, and a dead baby being carried with its flesh hanging from its body. It includes images of mass corpses and of death and also focuses on the world system and features female dancers doing suggestive dances while wearing very little. We therefore are awarding the DVD our Dove "Faith Based" Seal, which means we commend it for its faith message but include a note of warning that potential viewers should carefully consult our content listings below. This DVD won't be for all viewers.