Cool Dog
DVD Release:
January 4, 2011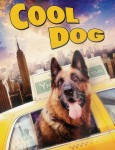 Synopsis
Jimmy, a vibrant ten-year-old boy, lives in the tranquil town of Eagle Rock, Louisiana, with his father, stepmother and, most importantly, his best friend—a German shepherd named Rainy. When Jimmy's father gets a promotion, the family must relocate to an apartment in New York City that has a strict "no pet" policy. Unwilling to let his master go without a fight, Rainy embarks on a cross-country journey to New York—but navigating the Big Apple is just the beginning of his challenging adventure. Join Rainy and Jimmy in this family-friendly tale about devotion, true friendship and love.
Dove Review
"Cool Dog" is a comical movie about a dog named Rainy and his best friend, a boy named Jimmy. You will be amazed at the things this heroic dog can do. He saves a young girl from falling off a bridge, drives a car in New York City and faces many other exciting adventures and performs some astounding feats during his journey from Louisiana to New York.
Filled with a lot of humorous stunts for one dog, and slap stick violence for all the bad guys, this film will entertain the entire family. But due to some language and some of the stunts, this film is best suited for ages 12 and over and therefore we award this film with the Dove "Family-Approved" 12+ Seal.
Content Description
Violence:
A lot of slap stick violence; Dog gets the best of a man who is trying to harm him; Bull throws man over fence; Bullies at school; Man steals woman's purse; Young men hassle homeless man; Man shocked by his own zapper; People chase and kidnap young boy
Violence:
A lot of slap stick violence; Dog gets the best of a man who is trying to harm him; Bull throws man over fence; Bullies at school; Man steals woman's purse; Young men hassle homeless man; Man shocked by his own zapper; People chase and kidnap young boy
Info
Company:
First Look Studios