The Green Hornet
Theatrical Release:
January 14, 2011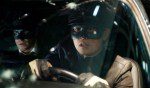 Synopsis
A classic character of film, television, radio, and comic books returns to the big screen in Columbia Pictures' feature film The Green Hornet, starring Seth Rogen as the vigilante crime-fighter. The film will be directed by Michel Gondry (Eternal Sunshine of the Spotless Mind) from a screenplay written by Seth Rogen & Evan Goldberg (Superbad, Pineapple Express), based upon "The Green Hornet" radio series created by George W. Trendle, and produced by Neal H. Moritz (The Fast and the Furious).
Dove Review
This is one movie I was looking forward to reviewing. I grew up with the old TV series of "The Green Hornet", the Bruce Lee and Van Williams' TV show. I was hoping this would be a good movie and that it would pay homage to the old TV series. Unfortunately, this movie is bad. So bad, I can't honestly think of one positive thing to write about it. Okay, the car-the Black Beauty-still looks cool and looks like the one from the TV series. But that's about it, seriously folks.
Seth Rogen plays Britt Reid and he plays him with a teenager-like enthusiasm. He is constantly "wowed" by the car, by Kato, by Kato's fighting abilities and on and on. The enthusiasm wears off after a few "wows". In addition the two men, who are supposed to be friends and fellow heroes, actually fight and disagree constantly in the movie and ultimately have a drag-down no-holds-barred brawl with each other. So the characterizations are not true to the spirit of the old radio serial or the TV series. These two are supposed to stick together and fight the villains, not each other! Jay Chou struggles a bit with his English in his turn as the living and breathing weapon known as Kato. In addition, there is a lack of respect for authority figures as one character removes the head of a statue which is of his father.
Also, the language in this film is horrible and profanities are frequently uttered and the violence level is almost, seriously, non-stop. There are crashes and explosions, explosions and crashes, fights and fights and still more fights. I got bored after a while. A good movie builds to these events and then when the good guys get it or they nail the bad guys, there is a pay-off and the audience is rewarded for their patience. In this movie the violence is so over-the-top that it cannot reward the audience with any ultimate moment. Unfortunately, the filmmakers missed a grand opportunity here to make a wonderful and family-friendly comic book kind of movie. Instead, they chose to make the heroes no more than teenager-like characters who reveal very little moral character until the end of the movie. What a shame.
Info
Company:
Columbia Tri-Star Pictures
Writer:
Seth Rogen & Evan Goldberg
Reviewer:
Edwin L. Carpenter