The Christmas Bunny
DVD Release:
November 1, 2011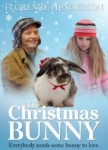 Synopsis
The Christmas Bunny is a new family film starring Brady Bunch mom and Dancing with the Stars contestant, Florence Henderson. The Christmas Bunny tells the story of a lonely foster child (Sophie Bolen) who finds a lost, injured rabbit in the woods on Christmas Eve. The rabbit is nursed back to health by The Bunny Lady (Ms. Henderson), who runs a rabbit rescue in an old barn behind her Michigan farmhouse.
Dove Review
Families today come in all different shapes and sizes but for some they are built over time from very unlikely places. Julia is a young girl who is placed into the foster care system because her mother suffers from an overdose of drugs. Scott and Patty are the parents of a young boy named Billy who accept Julia into their home partly due to their financial needs and also their desire to have another child.
Julia, however, has a slight issue — she won't talk to anyone. When the family brings an injured bunny into their home, they find that Julia begins to open up a little so they decide to make the bunny her charge. As Julia nurses the bunny back to health, she also begins the recovery she so desperately needs and finds the "forever family" she deserves. The cast is very credible, and Florence Henderson is amazing as the grumpy old bunny lady.
"The Christmas Bunny" is a moving film that your family will enjoy. There are some laughs and some tears along the way as the family relies on God for his strength and wisdom in their time of need. Dove is pleased to award this heartwarming film our "Family-Approved" Seal. The sensitive nature of the story is ideally suited for audiences from ages 8 to 80.
Info
Industry Rating:
Not Rated