The Change-Up
Theatrical Release:
August 5, 2011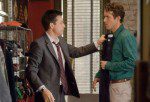 Synopsis
Ryan Reynolds and Jason Bateman star in The Change–Up, from director David Dobkin, writers Jon Lucas & Scott Moore and producer Neal Moritz. The R–rated comedy takes the traditional body–switching movie, ties it up tightly and throws it off a cliff.
Growing up together, Mitch (Reynolds) and Dave (Bateman) were inseparable best friends, but as the years have passed they've slowly drifted apart. While Dave is an overworked lawyer, husband and father of three, Mitch has remained a single, quasi–employed man–child who has never met a responsibility he liked. To Mitch, Dave has it all: beautiful wife Jamie (Leslie Mann), kids who adore him and a high–paying job at a prestigious law firm. To Dave, living Mitch's stress free life without obligation or consequence would be a dream come true.
Following a drunken night out together, Mitch and Dave's worlds are turned upside down when they wake up in each other's bodies and proceed to freak out.
Dove Review
You might just think the theme of characters switching bodies has been done a lot and is a tired theme. When this movie is compared to "Freaky Friday" from several years ago, with a then still fairly innocent Lindsay Lohan and Jamie Leigh Curtis, you would be right. That film was genuinely funny but with a Disney-style of wholesome entertainment. It also received our Dove Seal. Unfortunately, there are a lot of foul-mouthed comments in this one, not to mention raunchiness. In addition, the biggest gross-out scene I have seen in a while takes place when a baby shares its load with a character in the film, in the worst possible location, his mouth. A few "eewwww" comments were heard in the theater.
It was interesting, to some extent, to see the usually more reserved Jason Bateman play a character who lets loose after the switch is made. But what is one of the film's better moments is the scene in which a certain character has the opportunity to go to bed with another woman and realizes he can't break his wedding vows to his wife. That is a nice touch. However, the language and raw sexual raunchiness is far removed from the family-friendly arena and therefore this one misses out on our Dove Seal.
Info
Company:
Universal Pictures
Writer:
Jon Lucas & Scott Moore
Reviewer:
Edwin L. Carpenter