The Debt
Theatrical Release:
August 31, 2011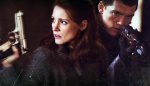 Synopsis
Helen Mirren and Sam Worthington star in "The Debt," the powerful story of Rachel Singer, a former Mossad agent who endeavored to capture and bring to trial a notorious Nazi war criminal—the Surgeon of Birkenau—in a secret Israeli mission that ended with his death on the streets of East Berlin. Now, 30 years later, a man claiming to be the doctor has surfaced, and Rachel must go back to Eastern Europe to uncover the truth. Overwhelmed by haunting memories of her younger self and her two fellow agents, the still-celebrated heroine must relive the trauma of those events and confront the debt she has incurred.
Dove Review
This is a powerful holocaust story. No doubt about that. Helen Mirren plays Rachel Singer, a former agent who worked with two men to capture an evil Nazi War criminal, a man known as "The Surgeon of Birkenau". He performed atrocities on several Jewish patients and, as Rachel remembers in flashback scenes, the three agents were determined to capture him. Jessica Chastain gives a compelling performance as the young Rachel in the flashbacks. When the doctor is finally captured all seems well until they have to guard him in a small, shabby and run-down apartment building until he can be picked up. When he escapes, their troubles have only begun.
Years later Jessica is determined to tell the truth and set the record straight. When opportunity gives her a second chance to capture the notorious surgeon, she can't let it pass. Despite an interesting story line this film contains graphic and bloody violence, not to mention strong language. In addition, our sex and drugs categories hit a level three, which crosses our acceptable level, so we are unable to stamp our Dove "Family-Approved" Seal on this movie.
Info
Writer:
Matthew Vaughn & Jane Goldman
Reviewer:
Edwin L Carpenter