On the Second Day of Christmas
DVD Release:
September 25, 2012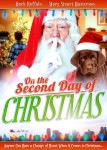 Synopsis
Trish (Mary Stuart Masterson) and her six-year-old niece, Patsy, make their living by picking pockets. But when they try to take advantage of holiday shoppers with fat wallets, they run into a little snag—a department store security guard named Bert (Mark Ruffalo) catches them in the act. The store owner wants them arrested, but decides to wait until Christmas is over. To ensure they don't make a run for it, he entrusts their care to Bert. With jail on the horizon, Trish and Patsy are scared for their future. But as the holiday nears its end, it looks as though a budding romance might just save them after all.
Dove Review
Everyone deserves a second chance to change their lives and this is a story that relates that idea. Trish and little Patsy find themselves in a predicament when they are caught stealing wallets at Christmas time in a department store. But when they are forced to stay with Bert until the day after Christmas a lot happens to all three of them. But second chances sometimes come along in surprising ways from some very unlikely people.
"On the Second Day of Christmas" is a wonderful story of Christmas that changes not only two people but three. Life is not always what people see in others on a first encounter but sometimes you have to get to know the other things about them. This story also relates that even grownups should confess when they are naughty and not just children. Everyone needs to tell Santa the truth. This movie is awarded the Dove "Family-Approved" 12+ Seal due to some issues that may be objectionable for younger children. Watch this one soon!
Info
Company:
Echo Bridge Home Entertainment
Industry Rating:
Not Rated