Argo
Theatrical Release:
October 12, 2012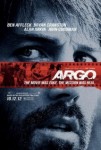 Synopsis
Based on true events, "Argo" chronicles the life-or-death covert operation to rescue six Americans, which unfolded behind the scenes of the Iran hostage crisis–the truth of which was unknown by the public for decades. On November 4, 1979, as the Iranian revolution reaches its boiling point, militants storm the U.S. embassy in Tehran, taking 52 Americans hostage. But, in the midst of the chaos, six Americans manage to slip away and find refuge in the home of the Canadian ambassador. Knowing it is only a matter of time before the six are found out and likely killed, a CIA "exfiltration" specialist named Tony Mendez (Affleck) comes up with a risky plan to get them safely out of the country. A plan so incredible, it could only happen in the movies.
Dove Review
Argo was a clandestine CIA operation during the Carter presidency that was later declassified by President Clinton. Until that time no one knew the details of the 6 Americans diplomats who were hiding in the Canadian Embassy during the Iran Hostage Crisis which lasted from 1979 to 1981.
Ben Afleck directed this intense, nail-biter that detailed the almost unbelievable plot to rescue these Americans in the middle of a very unstable Iran, by posing as a Canadian film crew on location in Tehran to make a Sci-Fi movie called ARGO. Agent Mendez (Afleck) called his plan, "The best bad option on the table."
This is a quality film that will almost certainly receive nominations for an Academy Award. Unfortunately, due mostly to the crude language, we are unable to award this a Family Approved Seal.
Info
Writer:
Chris Terrio & Joshuah Bearman