The Stray
DVD Release:
March 5, 2013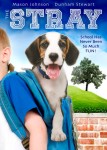 Synopsis
Just when they think summer school might bore them to tears, friends Aidan and Mason spot a cute little puppy roaming the halls. Quickly hiding their new pal from their strict principal, Ms. Thistle, the boys decide that they better come up with a plan for the pup, who they've named Chewy for his habit of destroying everything in sight. But they aren't the only ones who've seen Chewy and soon almost all of their classmates are in on the secret. With Ms. Thistle constantly on patrol, the kids must carry out a crazy plot to protect Chewy or risk losing their canine companion for good.
Dove Review
Yes, summer school can be boring but not for these kids as they discover a puppy at the school. It is a lesson in working together for the good of the cute puppy. This movie has some hilarious moments as they try hard to keep their secret from teachers, principal and their friend. But in the end everything works out for everyone.
"The Stray" is a charming family film that everyone will enjoy. We award this movie the Dove "Family-Approved" Seal for all ages.
Info
Company:
Echo Bridge Home Entertainment