A Christmas Tree Miracle
DVD Release:
November 5, 2013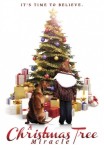 Synopsis
For the George family, Christmas time has turned into a season of taking, instead of giving, as they go through the motions of the holiday. Father David (Kevin Sizemore) is pre-occupied with his land developing job. Mother Julie (Claudia Esposito) is on edge trying to hold the holiday together. Teens Nick and Natalie (Barrett Carnahan and Emily Capehart) are too busy with their personal lives and adding to their ever-growing list of presents. It's only the youngest child, six year old Nina (introducing Siomha Kenney), who seems to have any ounce of true Christmas spirit.
When David loses his job before the holidays, the family ignores the seriousness of the situation and continues to live above their means until it catches up with them. With nowhere to turn, the George's are taken in by an eccentric Christmas tree farmer (Terry Kiser, "Weekend at Bernie's"). But does David have an ulterior motive and a plan to return his family to the life they once had?
"A Christmas Tree Miracle" is a family drama that reminds us that the best gifts are the simple ones we give to one another — not just at Christmas, but all year long.
Dove Review
Sometimes the free gifts are the best ones in life. A dysfunctional family becomes functional in this movie. After the father, David, loses his job, the family loses just about everything including their home. However, they stick together and the dad eventually finds a job. This movie demonstrates what a family can do and what they can overcome when they pull together.
Henry, an elderly man, is shown kindness by David when he offers him a free cup of coffee. Later the old man repays the kindness by inviting David and his family to stay with him when they lose their home. This well written story will touch many lives. One of the themes is that kindness always comes back one's way. We are happy to award this movie our Dove "Family-Approved" Seal for all ages and five Doves, our best rating.
Info
Company:
Green Apple Entertainment
Reviewer:
Edwin L. Carpenter