Mother's Day
Theatrical Release:
April 29, 2016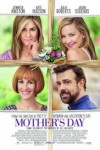 Synopsis
Bringing together Jennifer Aniston, Kate Hudson and Julia Roberts, along with Jason Sudeikis, it's a celebration of mothers everywhere. This big-hearted comedy invites us all to enjoy the laughter, tears and love, as three generations come together in the week leading up to Mother¹s Day.
Dove Review
"Mother's Day" features several laugh-out-loud moments but also contains strong content, including language. Jennifer Aniston plays Sandy, a woman who gets a big surprise when she learns her ex-husband, the father of their two sons, has just remarried a woman quite a bit younger than him. The adjustments they all go through are not easy. The plot is also about a widower named Bradley (Jason Sudeikis) and the difficult task he has in raising two daughters. He wants to treat the upcoming Mother's Day as just another day, but the girls want to honor their mom's memory. Their mother was an ex-marine who has been gone just a year. Bradley still misses his wife and plays old videos and thinks of her often, but being a single parent isn't easy. One of his daughters tells Bradley, "Mom was never late for soccer practice." Finally, two other plots in the film revolve around Sandy's friend, Jesse (Kate Hudson), who is not speaking to her parents, due to the fact that her mother was against her dating a man from India. What her mother doesn't know is that she also married him and had a child, too. Britt Robertson plays a young woman named Kristin, a new mother, who keeps turning down her boyfriend's marriage proposal for a certain reason: She's afraid of getting a divorce. Julia Roberts plays a Home Shopping Network host and that figures into the plot, too, specifically regarding Kristin.
Some of the issues the characters confront in the movie include a mother learning her daughter has a lesbian partner and another woman adjusting to her two boys having a new stepmother. The humor is tame, at times, such as when Sandy gets her arm caught in a vending machine when the candy she bought gets stuck. Some of the humor is more suggestive, such as when a boy puts his lion suit on backward for a school play, and the tail is no longer in the back but in the front. At any rate, despite some nice moments and the daughters in the film working things out with their mothers and, in one case, their father, the content is strong and prevents us from awarding the movie our Dove "Family-Approved" Seal. We encourage parents to check out the content listing.
Content Description
Sex:
A couple (new parents) are living together, but the man keeps proposing to his girlfriend and they eventually marry; a few different couples kiss, including a teen couple; a lesbian couple is in the story, and the news of the couple living together shocks the mother of one of the two women; a trainer at a gym gives a woman a light slap on the rear but doesn't seem to mean anything by it; a large display of a homemade vagina and womb for school, played for laughs; a sperm donor comment and a prostitution comment.
Language:
A lot of language, including the F bomb, "J," and several O/G and OMG comments, in addition to other strong language; a comment about boys not wearing underwear and a "free ba*ling" comment; a stripper comment; a comment about "big b**bs"; a soccer player calls the referee a "knucklehead."
Drugs:
Wine with a meal; a few club scenes and the drinking of beer; a man with a cigar in his mouth on several occasions; a boy has an asthma attack and takes an inhaler and then goes to the emergency room for asthma.
Nudity:
Strong cleavage in some of the scenes; a woman wears a very skimpy bikini; bare midriffs; male and female soccer players in shorts; man in underwear; man in boxers; shirtless kids.
Other:
A woman makes a couple of racist comments about her son-in-law from India, but she changes her tune by film's end; a few characters tell lies, but at least one of them promises to not lie again; tension between characters; a father is embarrassed to buy tampons for his teen daughter; a soccer coach is kicked out the of the game for getting angry with the referee and kicking the ball off the field; a teen girl drives away with her boyfriend, despite her father telling her to get out of the car; a woman steals a few candy bars from a vending machine.
Info
Reviewer:
Edwin L Carpenter