George and Martha – Season 1
DVD Release:
July 14, 2009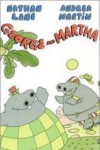 Synopsis
George and Martha is the story of two best friends who happen to be hippos. Based on the popular books by James Marshall, these dear, ditzy, down-to-earth hippos share an enduring friendship that is sometimes trying, sometimes touching, but always tons of fun.
Dove Review
Nathan Lane and Andrea Martin are the voices of George and Martha in this charming animated series about of hippos that are very best friends.
These two do a lot of things together that sometimes cause problems. They live in Happy Palms with many other animal friends. George and Martha experience events they both enjoy, yet some things are not so much fun. Martha enjoys dancing; George thought it was dumb—until he tried it. George tries his hand at being a comic until Maratha points out that his jokes are not fun for everyone. Together the duo shows the ups and downs of friendship. George sometimes decides to help Martha with things like her garden, her self image and her imagination, while Martha teaches George that its not good to keep secrets from your friends and how overeating sweets is not good for him. Together they show how even when the two disagree about something, it is always good to apologize and that friendships are more important then anything else. "George and Martha" emphasizes the importance of friendships as well as other issues in life—like losing a tooth, being scared, reading a book or that too much TV is not good for a person. There are many lessons taught in this series on fun comedy for the entire family. We are proud to award the Dove Family-Approved Seal for all ages to this series.
Content Description
Drugs:
A bottle of bubbly is ordered and drunk; Martha smokes a cigar to get her point across about bad addictions
Info
Company:
Nelvana International Limited