Shiloh 2: Shiloh Season
Theatrical Release:
July 2, 1999
DVD Release:
July 2, 1999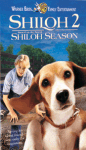 Synopsis
This sequel to 1997's Shiloh has 12-year-old Marty reaching out to Judd, the lonely, mean-hearted, previous owner of Shiloh, the cutest little beagle you're likely to come across. While Judd, played by Scott Wilson, schemes to get the pooch back because he considers Shiloh to be the best hunting dog he ever had, young Marty discovers that it is not easy to win over someone who doesn't acknowledge kindness.
Dove Review
Shiloh 2 has surprising depth for a boy-and-his-dog movie. Although the kindly grownups act a little too perfect, like Stepford folks, the film contains great life lessons and questions, including, "Can a person change?" Shiloh Season presents a loving family, the boy prays for his enemy, and little ones will learn that sometimes you have to be very patient when trying to win over the unlovable.
Content Description
We see wild dogs chase a little girl and she is bitten; the villain is always seen with beer in hand, but the film does not glamorize drinking - rather, it teaches lessons about alcohol abuse; there's a car crash, but it is not graphically depicted.
Info
Reviewer:
Phil Boatwright