House Divided
Network Premier:
July 16, 2000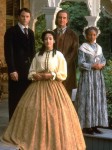 Synopsis
"A House Divided," which premiers on Showtime, 7/16/00 at 8pm (ET/PT), is based on the historical events surrounding Amanda America Dickson, a woman of mixed heritage. Dickson was the daughter of wealthy Georgia plantation owner David Dickson (Sam Waterston), and his slave, Julia (Lisagay Hamilton). Born with fair skin, Amanda (Jennifer Beals) has been raised and educated as if she were white by her devoted father and grandmother Elizabeth (Shirley Douglas). She grows up in privileged circumstances, unaware that Julia, whom Dickson had raped, is her mother. Amanda believes her mother died during childbirth.
After her fiancé discovers her true heritage, he abandons Amanda. Years later when her father dies, she discovers that Dickson has left her his considerable fortune. Her outraged uncle contests the will. Charles Dubose (Tim Daly), her forward-thinking lawyer, handles her case while Amanda grapples with her troubled relationship with her mother, who she believes not only rejected her, but lied to her over the years.
Dove Review
Well acted, with a trenchant script mired only by the profane use of God's name by each of the leads, "A House Divided" presents an incredible true story of the woman who became the wealthiest black person in the state of Georgia. But this teleplay is not just about black and white relationships. Indeed, some of the most captivating scenes take place in a courtroom. While some folks were demanding that it was sinful to give property and wealth to a person of African descent, more progressive thinkers were realizing that a man's wishes must be adhered to in the halls of justice. As Atticus Finch states in "To Kill A Mockingbird," "…in this country our courts are the great levelers, and in our courts all men are created equal." Members of the jury realized that if they did not honor the last will and testament of David Dickson, then perhaps, some day, their last requests would also be denied. Due to a rape scene and the misuse of God's name, we are unable to recomend this TV film for family viewing.
Content Description
Language: GD 9, Jesus 2, S-word 1, N-word 6, expletives 6 – Sex: a man gropes a young girl; a young girl is raped, not graphic, but disturbing – Alcohol: the male lead drinks on several occasions - Violence: a man slaps his wife; a young girl attempts to abort her baby using a wire, and causing much blood.
Info
Company:
Showtime Networks, Inc.
Reviewer:
Phil Boatwright