Jackie Bouvier Kennedy Onassis
Network Premier:
November 5, 2000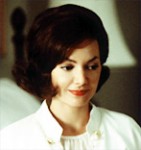 Synopsis
Based on the best-selling book by Donald Spoto, the first biography of Jacqueline Kennedy Onassis since her death and the death of her son, John F. Kennedy Jr.; this two-night mini-series airs on CBS, Sunday 11/5/00 at 9:00 PM ET/PT and concludes the following Wednesday.
Born into the wealth and privilege of the dysfunctional Bouvier family, young Jacqueline and her sister, Lee, watched as their womanizing, alcoholic father was thrown out of the house by their cold, socialite mother. Devastated by the loss of her beloved father, Jackie would never forgive her mother, and she was forced to learn the first hard lesson in her life: she could enjoy every creature comfort money could buy, but they were no substitute for deeper emotional needs.
In 1951, armed with a college degree, Jackie became "the inquiring camera girl" at the Washington Times-Herald. It was during this time that Jackie's beauty and intelligence caught the eye of John Fitzgerald Kennedy, a dedicated bachelor running for the Senate. When Kennedy's powerful, overbearing father, Joe, demands that Jack get married in order to further himself in the political arena, Jackie is selected as the perfect bride-to-be. The mini-series follows the life of this complicated woman through the dark, sometimes sinister worlds of politics, high finance, and celebrity.
Dove Review
Solid performances and a perceptive script give viewers an insight not only into the lives of the Kennedys, but also into the goings-on behind the social mores of American political life. It's an eye opener as we discover the determination and sometimes ruthlessness of those who would be king. The presidency gets a further black eye with the implication that JFK was a womanizer and others were responsible for his successes. For example, Kennedy was awarded a Pulitzer Prize for his authorship of Profiles in Courage. But according to this production, it was mainly written by Jackie and the award came after Joe Kennedy got a friend to lobby the Pulitzer committee. And unlike Abraham Lincoln, Mr. Kennedy had assistance with all those memorable speeches.
While civil rights was beginning to be addressed and the threat of nuclear war was as near as Cuba, three tragic assassinations forever changed how America would perceive itself. "Jackie" reminds us of the upheaval in the American way of life during this time, and the great sadness that accompanied social progress. Not only is this a dynamic look at one woman's life, but a valid portrait of American culture during the 1960s.
Info
Industry Rating:
Not Rated
Reviewer:
Phil Boatwright