All the Pretty Horses
Theatrical Release:
December 25, 2000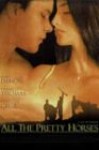 Synopsis
Cormac McCarthy's best-selling novel tells the story of resilient, dispossessed Texas teenager John Grady Cole (Matt Damon), who sets off on horseback for Mexico and comes of age.
When his mother sells the ranch where he grew up, John Grady embarks on a search for adventure and meaning in his life with pal Lacey Rawlins (Henry Thomas). Lured south of the border by the romance of cowboy life, the two pick up a 13-year old misfit named Blevins (Lucas Black) and eventually arrive at a hacienda where they are hired to break horses. There, John Grady falls into an ill-fated love affair with Alejandra (Penelope Cruz), the beautiful daughter of a wealthy ranch owner. But when the romance culminates in arrest, Mexican jail and a killing in self-defense, John Grady must put his taste for adventure aside and rely on the purity of his spirit and his sensibility to find the strength to persevere.
Dove Review
Man, this one makes "Romeo and Juliet" look like a Doris Day comedy. We're talking depressing! Boy loses ranch, gets brutalized in a Mexican prison, stands by while a pal is executed, and leaves his true love out of respect for her family's wishes. Yes, very depressing, and yet, there is so much being said by the protagonist. He is a man of character. How often is that quality represented in today's movies?
This beautifully photographed story is set during a time when horses still shared importance with the automobile. A time when cowboys were seeing the nomad life they loved come to an end. Like "Ride the High Country," "The Rounders" and "The Shootist" it depicts the end of an era. It wasn't just the cowboy's loner existence that was being displaced, but society's outlook on honor and reverence. While pessimism and humanism takes hold of a generation, our hero maintains that God looks out for us with his assessment, "I don't believe we'd make it a day otherwise."
But today's western genre is not merely used to tell a morality play where good triumphs over evil. The modern western is reined by obsessive filmmakers bent on pointing out not only men's follies and foibles, but their crudities, as well. Therefore, we are left with an involving film, but one where the leads profane God's name eight times, share their frustration by the use of one particular curse word 14 times, and freely jump into the sack without regard for propriety, let alone biblical commands.
Content Description
Violence:
Several shootings; off-screen execution; prison brutality, including beatings and a knife fight; man killed in knife fight.
Violence:
Several shootings; off-screen execution; prison brutality, including beatings and a knife fight; man killed in knife fight.
Drugs:
Male leads smoke; occasional drinking; one scene features the leads, including an underage boy, getting drunk.
Info
Company:
Columbia Tri-Star Pictures
Reviewer:
Phil Boatwright