Atlantis: The Lost Empire
Theatrical Release:
June 8, 2001
DVD Release:
January 29, 2002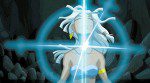 Synopsis
An inexperienced young adventurer becomes the key to unraveling an ancient mystery when he joins up with a group of daredevil explorers to find the mythical empire of Atlantis. Naïve but determined museum cartographer Milo Thatch (voice of Michael J. Fox) dreams of completing the quest begun by his late grandfather, a famous explorer. When a long-lost journal surfaces, providing new clues to the location, and an eccentric billionaire agrees to fund an expedition, the action shifts into high gear. Milo ultimately leads Captain Rourke (voice of James Garner) and his team to the elusive undersea kingdom. But Milo soon discovers treachery among his co-explorers, who are bent on stealing a power source, even though it will lead to the destruction of this submerged civilization.
Dove Review
Nobody does animation better than Disney. Nobody! Once again, the artists at Disney Studios manage to incorporate equal doses of comedy and adventure with state-of-the-art cartooning that stimulates both the eye and the imagination. While keeping up with the ever-evolving world of animated film-making, the folks at Disney never abandon the charm factor. Although computer-generated images have taken this genre to new heights, films like the original "101 Dalmatians" and "Sleeping Beauty" are still highly watchable due to that studio's mysterious ability to enchant with its vocal and visual characterizations. "Atlantis…" carries on in this noble tradition.
This film casts a spell with its eclectic crew of eccentric, funny and memorable characters, aided by an involved story, lots of action, and that intangible something that seems to elude most other animation filmmakers. Alas, there is a problem. While many classic Disney films have included either sorcery or other forms of spiritually questionable concepts in their stories, I have usually been able to dismiss the content as essential to conveying the parable's message. But "Atlantis: The Lost Continent" has this hidden world protected by an unknown force, with magical crystals worn by each of its inhabitants. With the New Age popularity of crystals as a healing and meditative element, which many people devote religious energy to, I felt the subject matter might be confusing to young minds, and possibly intriguing to their older siblings. Since I can find no affirmative biblical instruction concerning the use of crystals as a healing element, and because sorcery and the occult are frowned upon in both New and Old Testaments (Leviticus 19:31, 1 John 4:1), I question where the true power source of these crystals comes from.
True, it's just a story, but I felt you should be warned that many consider the use of crystals to be an occult practice. You should deliberate with your pastor or rabbi concerning the influence of this custom before allowing your children to view this film . Due to this spiritually misleading content, I cannot bring myself to recommend "Atlantis" for all ages. Even the 12+ crowd should be wary of the New Age Theology. If you feel comfortable discussing with your older children the questionable subject matter of life forces that come from gods and goddesses, then your family may enjoy the picture as a teaching tool to reinforce your Christian principles.
Info
Reviewer:
Phil Boatwright