Summer Catch
Theatrical Release:
August 24, 2001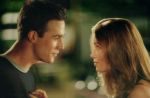 Synopsis
A young woman (Jessica Biel) who is spending her summer vacation in Cape Cod with her parents, falls in love with a local guy (Freddie Prinze, Jr.) who dreams of becoming a major league baseball
Dove Review
Poor, young stud tries out for exclusive baseball team – meets rich, young girl – falls in love – finds out baseball is less important than their relationship. If this sounds familiar, it is because this "formula" date flick uses a tired old storyline and merely substitutes new characters. The romance between Ryan Dunne, (Freddie Prinz Jr.) and Tenley Parrish (Jessica Biel) is not much more credible than Dunne's fastball (looks like 50 mph but is supposedly clocked at 95.) Prinze's coming of age character with the boyish grin looks all too familiar to his previous movie roles in "Down to You," and "She's all that." Sidekick, Matthew Lillard who plays the team's "surfer-dude" catcher is supposed to be the film's comic relief, but the humor is based on crude sex and drunkeness. As for "7th Heaven" bad girl Biel, she woos the camera with ease. It's too bad her film debute had to be in a story loaded with crudities and hyper-sexual innuendo.
Content Description
Language: F-word (1), ass (3), s-word (2), G-D (2), several metaphors for genitals. Sex: Couple spends night together drunk, sleeping on the pitchers mound of a baseball diamond. Girl feeds beer to boy with bottle held between her knees, older woman seduces young man. Nudity: rear nudity, men wearing women's thong panties. Wet, see-through top. Frequent drinking.