Rock Star
Theatrical Release:
September 7, 2001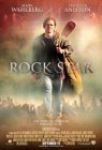 Synopsis
Best for: Mature teens to adults
What it's about: Mark Wahberg plays Chris Cole, the lead singer of Blood Pollution, a tribute band that covers the songs of Steel Dragon, a mainstream heavy metal group. When Chris is kicked out of the group, he tries out for the real thing and ends up fulfilling his dream of being a rock star. Jennifer Aniston plays Emily Poule, his girlfriend/manager who stands beside Chris for as long as she can. Dominic West, Jason Flemyng also stars.
Dove Review
The Good: I have to admit I enjoyed this adult drama not only because of the music, but the overall message about living someone else's dream instead of your own. Wahlberg is incredible and delivers an emotional packed performance in tune with his musical talents. His character comes full circle in the story and ends up seeing the folly of his choices. I like how the story shows he yearns to be his own person and not live his life as someone else. The story has an important overall message that exposes the sad and unrealistic look at the fantasy lifestyle of a rock star. The not-so-good: This is an adult look at the world of rock n' roll so there are several scenes of parties, an orgy with nude bodies, various characters smoke, drink and/or do drugs. Lots of ego and outlandish behavior.
Info
Producer:
Robert Lawrence and Toby Jaffe