Training Day
Theatrical Release:
October 5, 2001
DVD Release:
June 1, 2004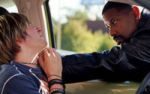 Synopsis
A police rookie (Ethan Hawke) wakes up at his suburban L.A. home at 5 a.m., and gets a call post-breakfast from his new partner: a 13-year veteran narcotics detective (Denzel Washington). While both cops are knowledgeable in the ways of law enforcement, the rookie goes by the book, but his veteran partner believes that going by the book can get you killed. So, we are taken into the L.A. underworld where a drug ring is set up to catch the "big fish", and where, if you are not careful, the "good guy dies first".
On his first day, his "training day", our rookie realizes that his partner is not who he seems.
Dove Review
Director, Antoine Fuqua uses a ready-made cast of A-list stars in his gritty, new film "Training Day", starring Denzel Washington as L.A.P.D. Detective Sergeant Alonzo Harris and Ethan Hawke as rookie Jake Hoyt. "Training Day" is much better than Fuqua's previous outings. This film relies on character development between the two cops, and evolves into more of a drama than an action film. At first, I thought that this was going to be a pretty straightforward, cop film, and cinematographer Mauro Fiore set up all of his shots using fast film stock, for that gritty, documentary type feel. But it was more than that. It was a realistic drama about the morality police officers face. One of the big questions: "Should we let the little fish go to catch the big fish?" is brought up time and time again. Producer Silver states, "In the end, this is a movie about choices- and it leaves audience members to make their own." Lies, deciet, murder, loyalty, morality, and integrity. Theses are the other ideas that are juxtaposed between the two leads. In spite of the lengthy story, it was an interesting and logical journey into the harsh realm of police duty – minus a few plot holes here and there. Washington and Hawke did well under the tight and detailed direction of Fuqua. Because of the strong language, violence, and misuse of the Lord's name this film does not pass muster for the Dove Seal. I recommend you steer clear of this one.
Info
Director:
Antoine Fuqua (The Replacement Killers,
Bait)
Producer:
Jeffrey Silver and Bobby Newmyer (sex, lies and videotape,
The Santa Clause)