The Roman Spring of Mrs. Stone
Network Premier:
May 4, 2003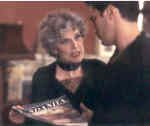 Synopsis
Aging Broadway star Karen Stone is incongruously cast by her devoted, doting husband and manager Tom as the female lead in 'Romeo and Juliet.' Unforgiving reviews and Tom's delicate health persuade her to quit the stage and leave New York City. They depart on a holiday to Italy. When in Rome, Tom unexpectedly dies of a heart attack. In shock from her loss and facing the end of her acting career, Karen decides to stay in the "eternal city" to scatter her husbands ashes and consider her future. Responding to a card of condolence, she meets with the Contessa, who introduces Karen to a series of young gigolos. Among them is Paolo di Leo, a young Italian of captivating beauty and one of the Contessa's most prized assets. Unprepared for the effects of his charm, Karen returns from their evening together surprised by the stirring of feelings for Paolo. As Paolo leaves, the "young man" still lurks in the shadows of the street, where he appears and reappears, now recognised but anacknowledged by Karen. Paolo and Karen begin a relationship. The Contessa berates his lack of material success: two months later and all he has recieved is a necktie. But Paolo explains Mrs. Stone is different from "the others" and cannot be treated cynically. And then, as surprisingly as his affections arrived, Paolo's attention begins to falter, his feelings to disengage. His behavior grows cold, then cruel. The fate of their relationship is sealed when a young American actress in the company of the Contessa and Paolo visits Karen at her apartment. They argue viciously. At first defiant, then humiliated, Karen instructs them to leave. Paolo registers a hint of regret, but it is too late. Too much has been said. Alone, Karen restlessly walks around her apartment and goes to the balcony. The young man is watching her from the street. Despondent and vulnerable, she throws down the keys and he enters.
Dove Review
The Roman Spring of Mrs. Stone is a strong romantic drama that pulls you into the world of Rome. The different culture and habits of the Roman people begin to rub off on Karen Stone, for the better. But, the romanticism of the place and time starts carrying her away. The actors are marvellous and portray their characters wonderfully. The airy sense that one gets from Rome, the eternal city, is enough to sweep even the viewers away to Rome in the Spring. Despite the marvellous actors and the wonderful plot and setting, the sex and lust was just to elaborate and too frequent for this to be approved.
Content Description
Sex and Nudity: Karen and Paolo have sex, unmarried, many times throughout the movie. It is shown in near full detail, with a lot of skin, and Karen's breasts are shown many times as well as full back nudity from Paolo.
Info
Company:
Showtime Networks, Inc.
Industry Rating:
Not Rated