Inside Man
Theatrical Release:
March 24, 2006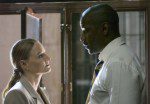 Synopsis
NYPD hostage negotiators Detective Keith Frazier (Washington) and Bill Mitchell (Chiwetel Ejiofor) are dispacted to a bank heist perpetrated by Dalton Russell (Owen). But the canny crook has a meticulous plan to disorient both the cops and his hostages. Soon, Frazier begins to think that Russell isn't working alone, suspicions that aren't eased by the appearance of Madeline White (Foster), a mysterious power broker who wants a private meeting with the thief. The bank's director (Plummer) is inside the building, and it's possible he's not on the up-and-up either. With lives at stake and a crowd of curious New Yorkers outside, Frazier can't afford to make one
Dove Review
"Inside Man" has a very interesting premise and catches your attention right from the beginning. While being well written, I found that Russell Gewirtz really likes the f-word and other obscene language that easily could have been left out of the story. Denzel puts in a good performance as the honest police detective and Clive Owen also does a fine job as the thief.
I found the photography very upsetting. I felt the quick staccato scenes and the jumping around very distracting. There were also many extreme close-ups that in my opinion were way too close. In some scenes they had the camera movement mimicking a person walking which made the picture jump and shake. I didn't enjoy those scenes, although they seem to be a common thread in many films these days.
Denzel fans will enjoy the film, but families are left outside of the thinking of possible audiences for this film.
Info
Company:
Universal Pictures