Aloha with Love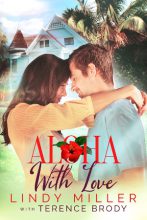 Synopsis
After a tough week that includes losing a big job opportunity and being dumped by her long-time boyfriend, Gemma Burke receives word her beloved Aunt Lani has passed away leaving her a dilapidated Victorian home in her Hawaiian hometown.
Dove Review
A wholesome romantic movie based on the book, "Aloha With Love" by best-selling author, Lindy Miller.  Lindy is an award-winning author of feel-good love stories, and this love story is no exception.  Shot on location in beautiful Maui, it introduces the viewer to stunning scenery, ocean views, and island culture and customs.  Executive produced by the famous and highly respected, Brian Bird, co-creator of Hallmark's "When Calls The Heart", the story touches the most sentimental areas of the human spirit.  A movie to be thoroughly enjoyed by the entire family and Dove approved for all ages! Mahalo!
Gemma (Tiffany Smith) is a talented Los Angeles architect who is blamed by her career-driven boyfriend Darren for losing a big condo project.  When Gemma reflects on their 4-year relationship, it's just not right for her and she is done with him.  Still teary-eyed from her sudden decision, her sister Sarah (Sarah Ashley Rodriguez)  phones to tell her their beloved Aunt Lani  (Cyndi Mayo) has passed away and can she please come home.  
The family lawyer breaks the news…Gemma and Sarah have inherited Aunt Lani's old tornado-damaged home and after she moved into the retirement home, it was left to deteriorate even further.  Much to Gemma's chagrin, Aunt Lani knew that her hot-shot architect niece could bring it back to life. To further complicate the situation, Aunt Lani insisted that Ben Fincher (Trevor Donovan) be the contractor, an instant sore spot with Gemma, who has never forgiven Ben for breaking her heart when they were 17.  But she is stuck with Aunt Lani's wishes and must make it work if she is ever to get the house repaired and sold so she can get back to her life on the mainland.
Gemma just wants a quick fix, but Ben sees beyond the damage and tries to convince her to spend the time to do it right. Gemma reminds him she is the client, but Ben refuses to compromise his standards and quits.   Gemma's dad, Pono (Branscombe Richmond) drops the real reason Ben was in Aunt Lani's will…he told her the house was her legacy for the entire family.  Gemma sheepishly apologizes and Ben is back on the job. 
As they work together, they are catching up, enjoying each other's company, and sharing the same vision.  Ben is charming and winning Gemma's heart. 
But when Sarah brings Darren into the picture to list the house, he tries to sweet talk Gemma into getting back together and exploit her Aunt's property and build their own condo development. It would be a financial game-changer for the entire family.  Ben is shocked and disbelieving.  Gemma's family is blinded by the dollar signs and agrees to go with the condo project.  When a mysterious video appears on Gemma's computer, it is the unexpected twist that brings on a stark reality check and Gemma must trust her heart and her love for family. 
A very well-cast movie with excellent performances by a diverse cast with family at the root of the story.
The Dove Take
"Being with people who love you for who you are and not for what you can do for them" … words to live by that encourage honesty and bring on true happiness.
Info
Company:
Fade to Black Films
Industry Rating:
Not Rated