Beerfest
Theatrical Release:
August 25, 2006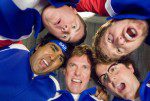 Synopsis
Two guys used to drinking beer for fun suddenly become fierce competitors in a sort of Lager Olympics in this over-the-top comedy. Todd Wolfhouse (Erik Stolhanske) and his brother Jan (Paul Soter) are from a German-American family but have never visited the Old Country until their grandfather dies and they fly to Germany to scatter his ashes. Todd and Jan arrive during the annual Oktoberfest celebration and accidentally discover a secret competition, "Beerfest," in which the world's leading beer guzzlers determine who can handle the most brew during several days of heated drinking games.
Todd and Jan are no slouches when it comes to downing suds and offer to compete, but the German branch of the family, the Von Wolfhausens, scoff at their desire to enter the contest and inform them no mere American could hope to carry away the Beerfest honors. Determined to prove Yanks can swill beer and embarrass themselves just as well as anyone, Todd and Jan bring their most skilled drinking buddies to Germany to defend America's honor on the field of drunken battle, and show their German relatives that the family's talent didn't vanish when they crossed the pond.
Dove Review
"Beerfest" is an exercise in how to make a film that every frat house will own. There are no redeeming qualities in this one at all! It seems that the writers included anything and everything they could to reach the lowest quality consumer. Save your money and your time and see something else.
Info
Writer:
Jay Chandrasekhar and Kevin Heffernan