The Pursuit of Happyness
Theatrical Release:
December 15, 2006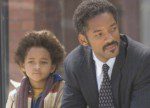 Synopsis
Chris Gardner (Will Smith) is a family man struggling to make ends meet. Despite his valiant attempts to help keep the family afloat, the mother (Thandie Newton) of his five-year-old son Christopher (Jaden Christopher Syre Smith) is buckling under the constant strain of financial pressure. No longer able to cope, she reluctantly decides to leave.
Chris, now a single father, continues doggedly to pursue a better-paying job using every sales skill he knows. He lands an internship at a prestigious stock brokerage firm, and although there is no salary, he accepts, hopeful he will end the program with a job and a promising future. Without a financial cushion, Chris and his son are soon evicted from their apartment and forced to sleep in shelters, bus stations, bathrooms, or wherever they can find refuge for the night.
Despite his troubles, Chris continues to honor his commitment as a loving and caring father, using the affection and trust his son has placed in him as an impetus to overcome the obstacles he faces.
Dove Review
This film is very good in some respects. Will Smith turns in a stellar performance as Chris Gardner, a down-and-out salesman who hasn't sold anything lately. Due to the financial stress in their lives, his wife finds that she cannot cope and leaves him and their five-year-old son as she believes Chris can take care of him better than she can. "The Pursuit of Happyness" is the story of persistence, and it does have a pay-off in the end. Some viewers will find the journey a bit depressing. It does have a few humorous moments which are genuinely funny, but it would have been nice if they had included more of them.
This is one of those near-misses for Dove. The F-bomb is seen plainly as graffiti on a street wall early in the film, and later the son asks his father about the word and uses it when asking. It is a shame that this one flaw prevents us from awarding this film the Dove Family-Approved Seal. It spoils a film that is otherwise suitable for ages twelve and above.
Info
Company:
Columbia Tri-Star Pictures
Reviewer:
Edwin L. Carpenter