Step Brothers
Theatrical Release:
July 25, 2008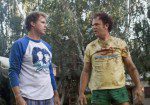 Synopsis
Will Ferrell and John C. Reilly, who last teamed in the box-office smash "Talladega Nights: The Ballad of Ricky Bobby," now star in "Step Brothers," directed by Adam McKay ("Talladega Nights"). In "Step Brothers," Ferrell plays Brennan Huff, a sporadically employed thirty-nine-year-old who lives with his mother, Nancy (Mary Steenburgen). Reilly plays Dale Doback, a terminally unemployed forty-year-old who lives with his father, Robert (Richard Jenkins). When Robert and Nancy marry and move in together, Brennan and Dale are forced to live with each other as step brothers. As their narcissism and downright aggressive laziness threaten to tear the family apart, these two middle-aged, immature, overgrown boys will orchestrate an insane, elaborate plan to bring their parents back together. To pull it off, they must form an unlikely bond that maybe, just maybe, will finally get them out of the house.
Dove Review
This movie produces some very funny moments, with Brennan (Will Ferrell) and Dale (John C. Reilly) both acting like 12-year olds instead of their age, which happens to be forty. They don Chewbacca masks from "Star Wars" and act like pirates and get upset at each other like kids and have fun together like kids. They go on an interview together and totally blow any chance they have of landing a job.
But this movie is as far from being a family-friendly film as the earth is from the moon. It is loaded with strong profanities, a simulated sex act (although no nudity is seen), one scene in which a man's scrotum is seen, and enough innuendos to make viewers uncomfortable. Therefore, we are unable to award our Dove "Family-Approved" Seal to this movie.
Info
Company:
Columbia Tri-Star Pictures
Writer:
Will Ferrell and Adam McKay and John C. Reilly
Reviewer:
Edwin L. Carpenter