Hud
Theatrical Release:
May 29, 1963
DVD Release:
December 2, 2003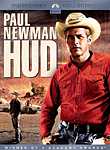 Synopsis
Martin Ritt successfully transforms a Larry McMurtry novel into a contemporary Western set on a Texas ranch where Cadillacs, cattle and transistor radios threaten to displace time-honored cowboy ways. Paul Newman stars as arrogant, rebellious farmhand Hud Bannon, who's constantly at odds with his old-school father, Homer (Melvyn Douglas, who won a Best Supporting Actor Oscar). Patricia Neal also won an Oscar for her role in the film.
Dove Review
Hud Bannon(Paul Newman) is the type of man who only thinks about himself. His selfishness has driven a wedge between his father Homer (Melvyn Douglas) and himself. Hud was in a car accident years before in which he didn't receive a scratch but his brother died. Homer has a good relationship with his dead son's child, Lonnie. Lonnie cares about his Uncle Hud but, like his grandfather, doesn't understand him. Hud becomes interested in inheriting the family ranch, even if he has to force his father to retire early.
This film demonstrates powerfully what can happen when a man lives like an island, with no thought of others. Paul Newman plays the lead role very well. Unfortunately, there is a scene in which the worldly Hud attempts to force himself on the family's maid (Patricia Neal) and there are a few sexual innuendos as well. It is enough to cross our line of acceptability for a family-friendly film and therefore we are unable to award our Dove Seal to this picture.
Info
Company:
Paramount Home Entertainment
Industry Rating:
Not Rated
Reviewer:
Edwin L. Carpenter