The Taking of Pelham 1 2 3
Theatrical Release:
June 12, 2009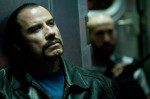 Synopsis
In "The Taking of Pelham 1 2 3" Denzel Washington stars as New York City subway dispatcher Walter Garber, whose ordinary day is thrown into chaos by an audacious crime: the hijacking of a subway train. John Travolta stars as Ryder, the criminal mastermind who, as leader of a highly–armed gang of four, threatens to execute the train's passengers unless a large ransom is paid within one hour. As the tension mounts beneath his feet, Garber employs his vast knowledge of the subway system in a battle to outwit Ryder and save the hostages. But there's one riddle Garber can't solve: even if the thieves get the money, how can they possibly escape?
Dove Review
John Travolta plays a villain, Ryder, quite well in this movie. He is menacing, sarcastic, and intriguing as he enjoys speaking with subway supervisor Walter Garber (Denzel Washington) after Ryder holds hostages on a subway and demands ten million dollars. Washington also is convincing as Garber, the man who wants to make right a wrong he recently committed and he sees this as his chance to do that, if only he can save the lives of the passengers. By the way, the title we learn comes from the fact the subway comes from Pelham Bay at 1:23 p.m. in the afternoon.
This is an interesting story but unfortunately, with over 100 F bombs included in the film, and other strong language, not to mention the violence and some sexual comments, this one is definitely not one for the family to view together. We are therefore unable to award our Dove "Family-Approved" Seal to this movie.
Info
Company:
Columbia Tri-Star Pictures
Writer:
Brian Helgeland and John Godey
Reviewer:
Edwin L. Carpenter