Nightmare on Elm Street, A (2010)
Theatrical Release:
April 30, 2010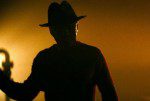 Synopsis
(Katie Cassidy), Quentin (Kyle Gallner), Jesse (Thomas Dekker) and Dean (Kellan Lutz) all live on Elm Street. At night, they're all having the same dream – of the same man, wearing a tattered red and green striped sweater, a beaten fedora half-concealing a disfigured face and a gardener's glove with knives for fingers. And they're all hearing the same frightening voice…
One by one, he terrorizes them within the curved walls of their dreams, where the rules are his, and the only way out is to wake up.
But when one of their number dies a violent death, they soon realize that what happens in their dreams happens for real, and the only way to stay alive is to stay awake. Turning to each other, the four surviving friends try to uncover how they became part of this dark fairytale, hunted by this dark man. Functioning on little to no sleep, they struggle to understand why them, why now, and what their parents aren't telling them.
Buried in their past is a debt that has just come due, and to save themselves, they will have to plunge themselves into the mind of the most twisted nightmare of all… Freddy Krueger.
Dove Review
Effective January 1st, 2009, The Dove Foundation Review Team has ceased reviewing all NC-17 rated movies and certain extraordinarily explicit R-rated films. This decision was reached due to the fact that Dove reviewers are parents or grandparents with conservative values. As such, we feel that we can no longer expose these dedicated and caring people to movies that contain distasteful and appalling stories that are focused on graphic horror and violence, and/or gratuitous depictions of explicit sex and nudity.
"A Nightmare on Elm Street" (2010) is considered to be such a film. Our report is therefore limited to the business information (title, rating, distributor, producer, director, actors, etc), synopsis, and the content chart.
Info
Writer:
Wesley Strick & Eric Heisserer
Reviewer:
Edwin L. Carpenter