A Golden Christmas
DVD Release:
October 12, 2010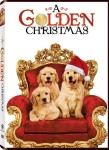 Synopsis
One summer, long ago, a little girl and a little boy were brought together by a very special dog. They played all summer long, it was puppy love. Then the summer ended and they never saw each other again… Years later, when her parents retire and decide to sell their house, Jessica (the girl), recently widowed, decides to start over, move back home with her son, and buy it as a Christmas surprise. However, her plan goes awry when she discovers that her parents already sold the house, unbeknownst to her (and everyone), to the very same person that she spent that magical summer with years ago. Jessica's not ready for a man in her life. She just wants the house. But with the help of her family, some luck and a very special dog, maybe Jessica will realize the blessings in a plan gone awry…and maybe even fall in love in the process.
Dove Review
This movie is a joy to watch. The acting is very solid and the story itself is charming and engaging. A woman named Jesse visits her parents and siblings at Christmas time along with her son. She is ready for a change and wants to buy her parents' home. She is shocked to learn they just reached an agreement with a buyer, a man named Michael, and that they will be moving to Florida after the deal is closed. Jesse had aborted her family for three years after her husband died and now tensions arise from her determination to thwart Michael's plans to purchase the house.
The family can't understand Jesse's determination to purchase the home, as she hasn't revealed her nostalgic desire to recapture in her life, the summer when she was nine years old and met a boy who shared that magical summer with her. She doesn't even know his name, only that she called him "Han" after Han Solo of "Star Wars" and she was called "Leia" after Princess Leia. As Jesse's obsession leads to her stubbornly standing in the way of would-be buyers of Michael's own home, she finally has to come to terms with who she was, what she has become, and whether or not she will ever find the young boy who helped make one summer most memorable for her.
This delightful movie will engage many viewers and we heartily award it our Dove "Family-Approved" Seal. Make your Christmas a golden one by popping this DVD into your player. You will even enjoy watching it in July. I did!
Info
Reviewer:
Edwin L. Carpenter