Christmas in Canaan
DVD Release:
October 5, 2010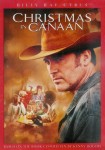 Synopsis
Billy Ray Cyrus stars in this touching story about the true meaning of the holiday season. When a pair of boys with nothing in common team up to help an injured dog, an unlikely friend ship begins. As they grow into adults, their beliefs are tested by the rapidly changing world and they see that it will take strong faith and family spirit to keep them together. Based on the book co-written by Kenny Rogers and featuring an original song by Billy Ray Cyrus, Christmas in Canaan is a touching drama that shows that the most important gifts in life are the ones money can't buy.
Dove Review
This is a story of two young men from different cultural back grounds put together because of a dispute. DJ thinks Rodney is too smart for his britches and Rodney thinks DJ is a stupid white boy who doesn't know anything. So the two despise each other. But after a fight on the bus, DJ's father and Rodney's grandmother come up with a punishment that neither boy can believe. Living in the 1960's in Canaan, Texas, does not make it easy for a black boy and a white boy to be friends. But when the two boys work together to save a young puppy, the friendship becomes a life long relationship.
Filled with a great Christmas spirit of kindness and friendship, this wonderful movie will entertain the family. We are proud to award this film with the Dove "Family-Approved" 12+ Seal.
Content Description
Violence:
Man shoots puppy off screen; Man threatens young boy; Boys find injured dog; Men throw molotov cocktails at tent; Tent on fire with people in it; Young boy gets hit by truck while on his bike
Violence:
Man shoots puppy off screen; Man threatens young boy; Boys find injured dog; Men throw molotov cocktails at tent; Tent on fire with people in it; Young boy gets hit by truck while on his bike