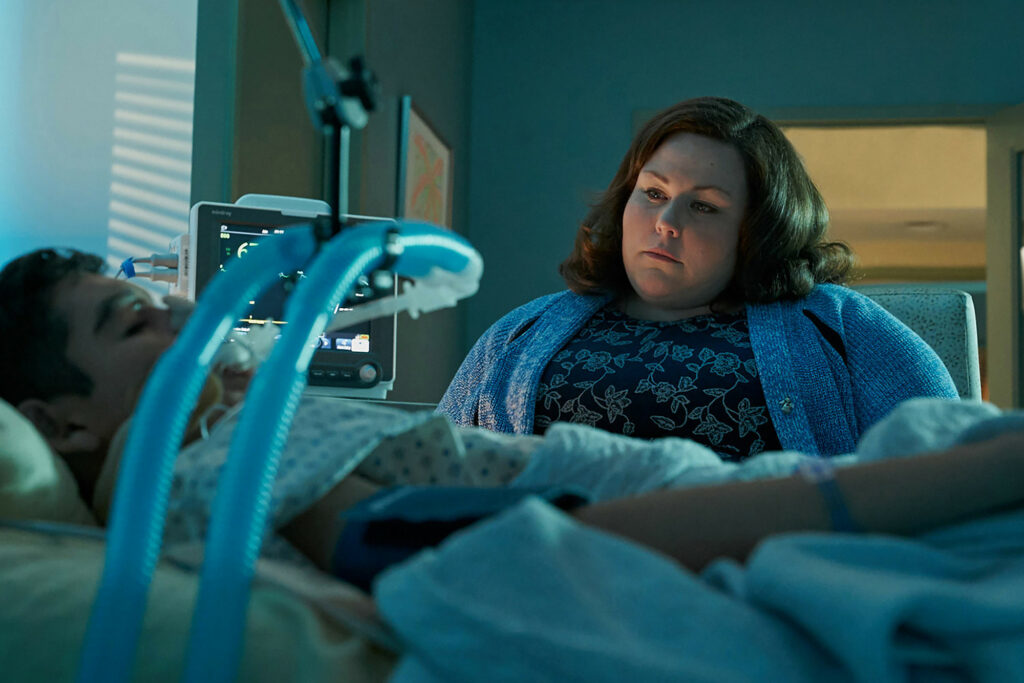 By Jacob Sahms
This Sunday, we celebrate our moms, the women who helped us become who we are. At Dove, we're always looking for opportunities to celebrate movies and family, so we've compiled this list of Dove-approved films for your enjoyment and discussion as we stop to appreciate Mother's Day.
Joyce Smith (Chrissy Metz) wants to connect with her adopted son John (Marcel Ruiz), but she can't seem to break through the haze of school, sports and teenage angst. John calls his dad by his first name, doesn't call his mother when he's supposed to, and rebels in school. But when John falls through the ice on a halfway frozen river behind his friend's house, he is clinically dead in the hospital, and his whole family's worldview comes into question.
Representing the faith element in this based-on-a-true-story adaption is Pastor Jason Noble (Topher Grace), whose disregard for the way that the Smiths' church used to operate (and his haircut) puts him in direct confrontation with Joyce several times. When John's body is brought to the hospital, Jason is one of the first people to respond to the tragedy, and an unsteady collaboration of prayer and counseling unfolds inside of the hospital. The medical community, the faith community, and the community at large must wrestle with John's state after he's pulled out of the ice. No one expects him to live except for Joyce, and her faith is shaky at best.
Follow the links for interviews with Pastor Noble and the Smiths, or to watch it on Christian Cinema.
Fresh off of her success with Lady Bird, Academy Award-nominee writer/director Greta Gerwig moves Saoirse Ronan (Jo March), Emma Watson (Meg March), Florence Pugh (Amy March), and Eliza Scanlen (Beth March) around their high school years under the watchful eyes of Marmee March (Laura Dern) and Aunt March (Meryl Streep), and out into the world. That includes the dramatic intrigue around the sisters' relationship with Laurie Laurence (Timothée Chalamet), and determining how they fit into the roles that society expects of them, or not.
Follow the links to an interview with Gerwig or to watch on Christian Cinema.
Every mom needs some time to herself and Allyson is no different. She wants everything to always be perfect including her house, her children, her life, and her activities. She makes her plans and they must meet her expectations but when she plans a ladies night out she believes she has everything in order; little does she know what is in store for the group.
Leaving her husband in charge is the first thing that has her worried, then other things begin to happen. This includes plans to go out on a "Mom's Night Out" with her two friends Izzy and Sondra. As the evening continues things go from bad to worse and the ladies find themselves meeting some strange characters that have to help them out of the situation they find themselves in. But the girls are not the only ones having problems as the men have a predicament of their own.
Buster Moon is a koala who has wanted to own a great theater ever since his dad took him to the theater when he was 6 years old. But over the years he has fallen on hard times; he owes the bank and his employees. He needs to change things around, so he decides to hold a singing contest with a $1,000 prize. Unfortunately his assistant, Miss Crawley, adds two more zeros to the flyers that inadvertently go out the window when a large breeze swoops them up, and that puts him on the line for a $100,000 payout.
Many come to try out. Only a few are picked: Rosita, a stay-at-home mom to 25 piglets; Ash is a female porcupine who is part of a two-piece band, but Mr. Moon only wants her and not her partner; Johnny loves to sing, but his father wants him to be a part of the bank robbery gang; and then there is Mike, a mouse who thinks he is the best. Together they all prepare for the show until there a mishap at the theater that makes them all wonder what will happen. Even Buster is unsure of the future.
Follow the link to watch on Christian Cinema.
It's the story of Ann Atwater and C.P. Ellis, an unlikely pairing in the heated battles of racism and rights in 1971 Durham, North Carolina. We meet Ann Atwater already in the reputable position of voice-of-the-people; advocating for the poor and neglected African Americans in her town. As a fierce and loving single mother of two, she's known as a vocal and fearless opponent to the white, male elitist government in Durham. Enter C.P. Ellis, the owner of the whites-only gas station and the leader of the local Ku Klux Klan. "CP" has grown into a trusted resource for the City Council because he can rally his violent troops on a moment's notice, waging terror and separatist ideals.
When the elementary school serving the black community suffers an electrical fire and becomes uninhabitable, the lines are drawn for deep bigotry and racism to collide with the needs of innocent children. The reigning judge calls on Bill Riddick, a successful mediator from Pennsylvania who's developed a process called "charrette" to work through cultural divisions among people. Riddick arrives on the scene to call the whole town to some sort of order and understanding. It's a beautiful process to witness; two weeks of gathering and listening. And with the skill of a surgeon, Bill Riddick establishes the ground rules and manages the discussions. Meanwhile, the townspeople wrestle with all manner of painful truths. (Dove-Approved 18+)
Follow the link to read more.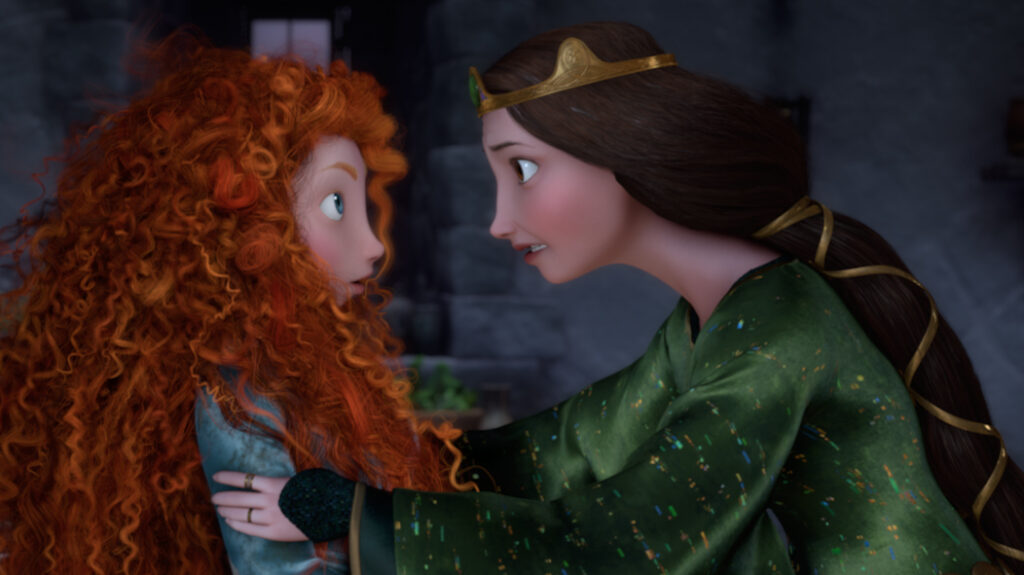 Since ancient times, stories of epic battles and mystical legends have been passed through the generations across the rugged and mysterious Highlands of Scotland. In "Brave," a new tale joins the lore when the courageous Merida (voice of Kelly Macdonald) confronts tradition, destiny and the fiercest of beasts.
Merida is a skilled archer and impetuous daughter of King Fergus (voice of Billy Connolly) and Queen Elinor (voice of Emma Thompson). Determined to carve her own path in life, Merida defies an age-old custom sacred to the uproarious lords of the land: massive Lord MacGuffin (voice of Kevin McKidd), surly Lord Macintosh (voice of Craig Ferguson) and cantankerous Lord Dingwall (voice of Robbie Coltrane). Merida's actions inadvertently unleash chaos and fury in the kingdom, and when she turns to an eccentric old Wise Woman (voice of Julie Walters) for help, she is granted an ill-fated wish. The ensuing peril forces Merida to discover the meaning of true bravery in order to undo a beastly curse before it's too late.
Maleficent is an intensely satisfying movie which will enchant audiences everywhere. It is visually stunning, featuring magical lands and characters, waterfalls, shimmering lakes, and woods that are alive with many creatures. It also features a funny inside joke as Angelina Jolie's character tells a child (her own daughter, Vivienne Jolie-Pitt) that she doesn't like children. Considering how many kids Angelina has adopted, the joke is a good one.
Elle Fanning is simply splendid as Aurora, the young princess who is placed under a curse and is taken by pixies to live in the woods so as to protect her from pricking her finger on a spinning wheel. She is a happy child and Fanning plays this very well. She falls under the care of Maleficent, whose wings were clipped by Aurora's father who betrayed Maleficent. His cruel cutting off of her wings comes back to haunt him. When King Stefan (Sharlto Copley) has a daughter, Aurora, Maleficent shows up at the Christening to place the curse. She ironically later becomes protective of Aurora and attempts to revoke the curse on her. Young Aurora's kindness and cheerful disposition is too much for Maleficent and she can't hold onto her hatred. Jolie, like Fanning, gives an impressive performance as Maleficent, with emotions ranging from anger and hate to love and finally to protective maternal instincts. (Dove Approved 12+)
Check out more reviews and interviews at Dove.org!